Laura Bordin
Project 1 - Photographic Self Portrait
_
Project 2 - "Email your idol"
This is the email I sent to Johnny Depp:
"Dear Johnny,
I'm Laura, a universitary student of Multimedial and Visual Communications (Iuav University) in Venice.
I'm writing you mainly because I have to!!!... My Visual Communication Professor and famous designer, Daniel Eatock, gave me this assignment: "Email your idol"...
Well, maybe I was really the wrong person to do it, because I don't think I have an idol... I consider every person as a special person, it doesn't matter if he/she is an actor/actress or a baby sitter... It's the same, maybe sometimes a baby sitter could be more positive than a star and maybe other times could be the other way round...
But this is not important now... I have to think to someone that can be considered as an idol... and I chose you!
It seems to me that you are one of the more common persons working in Hollywood... You choose your movies, you decided to stay away from your job to spend more time with your family, you are not full of yourself, you are really a good actor, you do the thing that every worker should do in his work!!! Maybe this is why I decide to write to you...
I don't know if you are going to reply to my mail... also because I'm not asking you anything, but it would be nice to hear something from you...
Actually I don't even know if you will receive this email, because it's really difficult to find your email address, but I hope I will find it!
Sorry for my English, I tryed to write without thinking too much about what I have to write... else it would have taken me much more time, to consider every word of this letter.
Maybe I would only reflect with you on why you, and the movie stars in general, seem to be so distant and different from the "normal people", and I want to proove that this distance is not so big, that you are persons just like me, that you just chose a particular job and that the job you chose is not really different from what I would like to do... I mean, I don't want to become an actress (maybe in my next life...) but I want to become a visual communication and interaction designer to communicate with people, just like you do in your performances...
Thank you for your attention...
Kind regards to you and your family!
Laura"
_
Project 3 - Alternatives
inAttesa is a list of things people can do while they are waiting for the bus.
I called this project inAttesa because in Italian inattesa means unexpected and in attesa means meanwhile. To make it actually unexpected I used the same graphics of the timetable that are hung at the bus stops.
This is the list I created, asking my colleagues to tell me what they usually do, waiting for the bus and what they would like to receive from other people at the bus stop.
This is my inAttesa list hung at one bus stop.

This is one of the bus stops where I hung my inAttesa list.

_
Project 4 -
4.1 Thank you picture
Chameleon (Murano, Venice)

Double Arch (Venice)

Palindrome (Mestre, Venice)

Primary canoes (Murano, Venice)

Primary houses (Burano, Venice)

Tandem

White and black (Siena)

_
4.3 Holley Portrait
_
4.2 Camera Strap
_
4.3 Holley Portrait
4.4 No smoking sign
1-For Italians only-----------------------------------

2-------------------------------------------------------

3-------------------------------------------------------

_
Project 5 - Entrepreneur
Inspirations

Booklet

Website
www.trianglesentences.com
_
Project 6 - Looking for an idol
Since I discovered I don't have an idol, I decided to find one.
I create three posters and flyers in order to find an idol that could be:
- a miraculous object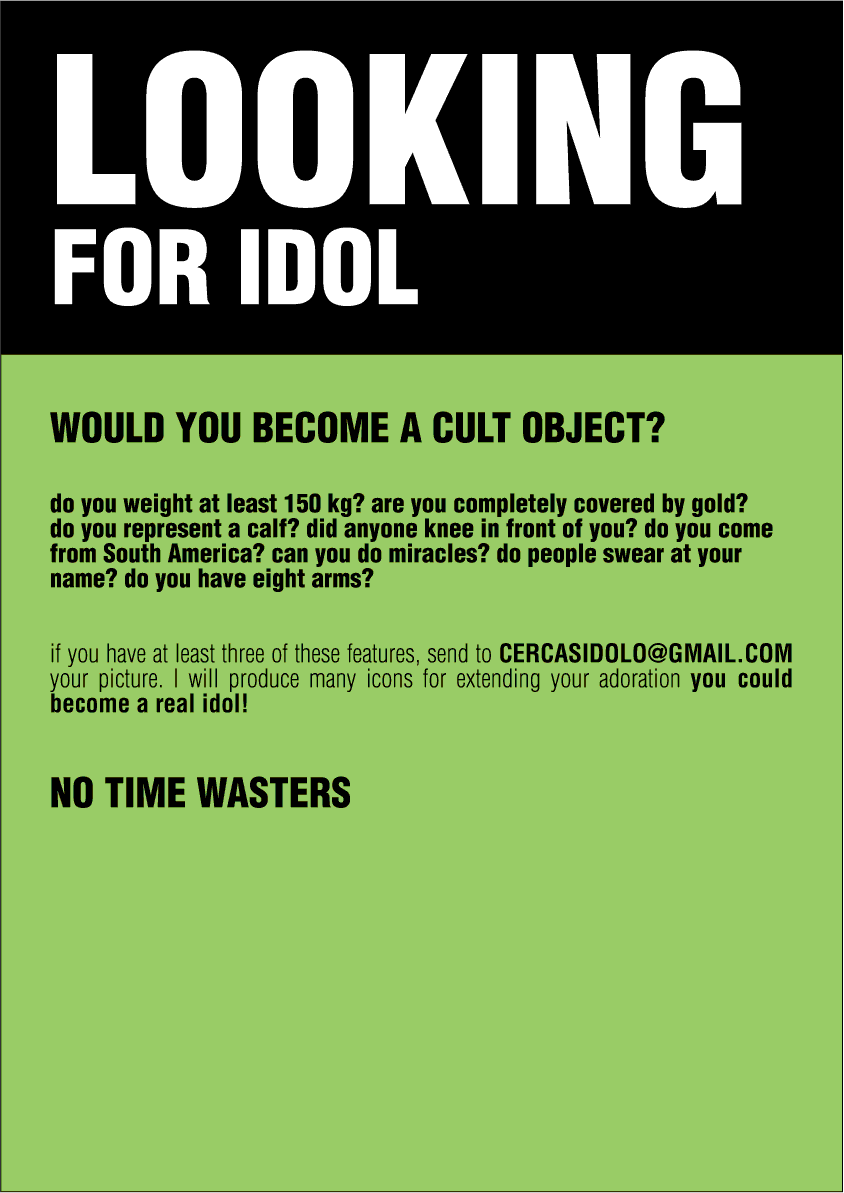 - a special-normal person

- a celebrity

I also put the three announcements on an italian website. These are the links:
idol 1 - idol 2 - idol 3.
_
Project 6 - Mail to my unknown idol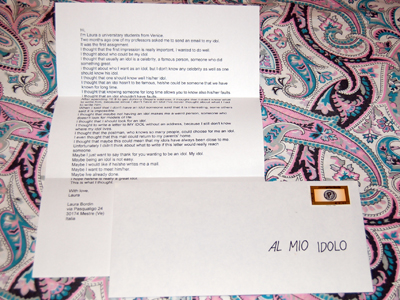 This is a mail without receiver's address. The sender's one is inside, so it can't return to me unless someone read it.
"Hi,
I'm Laura a universitary students from Venice.
Two months ago one of my professors asked me to send an email to my idol.
It was the first assignment.
I thought that the first impression is really important, I wanted to do well.
I thought about who could be my idol.
I thought that usually an idol is a celebrity, a famous person, someone who did something great.
i thought about who I want as an idol, but I don't know any celebrity as well as one should know his idol.
I thought that one should know well his/her idol.
I thought that an idol hasn't to be famous, he/she could be someone that we have known for long time.
I thought that knowing someone for long time allows you to know also his/her faults.
I thought that an idol shouldn't have faults.
After spending 16 $ to get Johnny Depp's address, I thought that I didn't know what to write him, because since I don't have an idol I've never thought about what I had to write him.
When I said that I don't have an idol someone said that it is interesting, some others said it is impossible.
I thought that maybe not having an idol makes me a weird person, someone who doesn't look for models of life.
I thought that I should look for an idol.
I thought to write a letter to MY IDOL without an address, because I still don't know where my idol lives.
I thought that the postman, who knows so many people, could choose for me an idol.
I even thought that this mail could return to my parents' home.
I thought that maybe this could mean that my idols have always been close to me.
Unfortunately I didn't think about what to write if this letter would really reach someone.
Maybe I just want to say thank for you wanting to be an idol. My idol.
Maybe being an idol is not easy.
Maybe I would like if he/she writes me a mail.
Maybe I want to meet him/her.
Maybe Ive already done.
I hope he/she is really a great idol.
This is what I thought.
With love,
Laura
Laura Bordin
via Pasqualigo 24
30174 Mestre (Ve)
Italia"
_
Charlotte Eatock Poster
Charlotte Eatock Movie-Poster
Project realized in collaboration with Aurora Biancardi.
Source: http://www.typotheque.com/type_utilities/dancewriter/
_
Abake Project - Ouverture
Click here to see the project.
Project realized in collaboration with Andrea Buran, Mario Ciaramitaro.